Is plant burger firm Beyond Meat really worth $1.5bn?
The US firm, which counts actor and environmentalist Leonardo DiCaprio among its investors, will now offer its shares at between $23 and $25.
The decision to increase the price from the original range of $19 and $21 indicates strong demand for the shares.
But Beyond Meat is loss-making and does not know when it will report a profit.
For its most recent financial results for 2018, Beyond Meat said losses hit $29.9m, slightly below the previous year but above a $25.1m loss in 2016.
Beyond Meat said it has reported losses since it was founded in 2009 due to its investment in "innovation and growth".
In its flotation document filed with the US Securities and Exchange Commission (SEC), it said: "We may be unable to achieve or sustain profitability.
"We have experienced net losses in each year since our inception and we may therefore not be able to achieve or sustain profitability in the future."
First a disclaimer: I haven't eaten meat for 30 years which makes me either the worst person possible or the ideal candidate to try a meatless Beyond Burger.
I find one on the menu at TGI Fridays in Manhattan where, interestingly, the waitress who takes my order makes sure I realise that the beef-like patty is plant-based and not made of meat.
Her question flies in the face of Beyond Meat's strategy - the company that makes the burger - which asks retailers to stock its products alongside real meat so it is seen as an option for all consumers, not just vegans and vegetarians.
Also striking is the calorie count.
A Beyond Burger with cheese in a bun with all the trimmings is a gut-busting 890 calories, just below TGI Friday's traditional cheeseburger which is 1,110 calories, proving that just because something is meat-free doesn't mean it's virtuous.
The Beyond Burger itself does look like meat - it is slightly pink in the middle and actually has char marks on the outside, like it has been sizzling on a grill.
It's also surprisingly tasty and filling. The texture is fine and it doesn't have that rubbery consistency that other non-meat alternatives have.
Afterwards, however, I feel slightly bilious. It could be because the burger is so meat-like it makes me feel odd. Yet it doesn't put me off trying its other products which include beef-like mince, to perhaps recreate my Mum's legendary spaghetti Bolognese.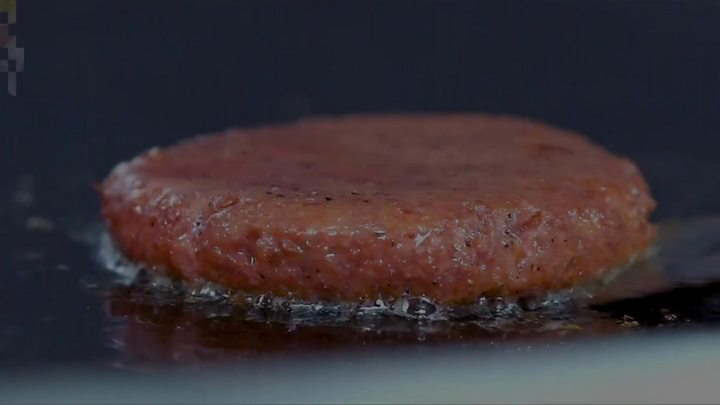 Source URL : https://www.bbc.com/news/business-48110704