Trend of Novel Technologies Over Conventional Ones
The non-thermal processing market, was valued at USD 760.7 Million in 2016. It is projected to reach USD 1,224.2 Million by 2022, at a CAGR of 8.4% from 2017. Non-thermal processing technology is used to extend the shelf life of the food products and to enhance their appearance. Non-thermal processing technologies perform the function of food safety and preservation by inactivating the microbial cells. The growth of the packaged food industry and R&D activities are driving the market for non-thermal processing technologies. Market players are responding to new opportunities by expanding their global presence and product offerings.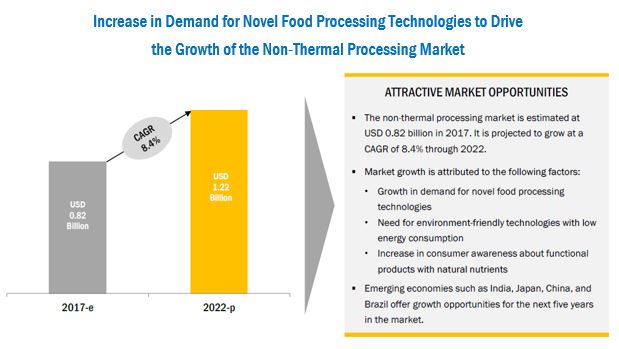 For More details on this research, Request Free Sample Report
The objectives of the study are:
To define, segment, and forecast the size of the non-thermal processing market with respect to food product, technology, function, and region
To analyze the market structure by identifying various sub segments of the non-thermal processing market
To forecast the size of the non-thermal processing market and its various submarkets with respect to four main regions, namely, North America, Asia Pacific, Europe, and the Rest of the World (RoW)
To provide detailed information about crucial factors that are influencing the growth of the market (drivers, restraints, opportunities, and challenges)
To analyze opportunities in the market for stakeholders and provide details of the competitive landscape for market leaders
To strategically profile key players and comprehensively analyze their market ranking and core competencies
To analyze competitive developments such as expansions, new product & technology launches, acquisitions, agreements, collaborations, and partnerships in the non-thermal processing market
The years considered for the study are as follows:
Base Year: 2016
Estimated Year: 2017
Projected Year: 2022
Forecast Period: 2017 to 2022
This report includes estimations of the market size in terms of value (USD million). Both, top-down and bottom-up approaches have been used to estimate and validate the size of the non-thermal processing market and to estimate the size of various other dependent submarkets in the overall market. Key players in the market have been identified through secondary research through various sources such as the US Department of Agriculture (USDA), the European Federation of National Associations of Measurement, Testing and Analytical Laboratories (EUROLAB), the World Health Organization (WHO), I.E. Canada (Canadian Association of Importers and Exporters), the Environmental Protection Agency (EPA), the Food and Agricultural Organization (FAO), the Food Safety Council (FSC), and Statistics Canada, and their market ranking in the respective regions have been determined through primary and secondary research. All percentage shares, splits, and breakdowns have been determined using secondary sources and were verified through primary sources.
Article author : Kashyap Singh