Increasing Demand for Processed Food Drives the Food Enzymes Market
The report "Food Enzymes Market by Type (Carbohydrase, Protease, Lipase), Application (Beverages, Bakery Products, Dairy Products, Confectionery Products, Processed Foods), Formulation (Lyophilized Powder and Liquid), Source, and Region - Global Forecast to 2023", The global food enzymes market is estimated at USD 2.31 billion in 2018 and is projected to reach USD 3.23 billion by 2023, at a CAGR of 6.9% during the forecast period. The market is driven by factors such as waste reduction and energy savings in food processing and the demand for environment-friendly manufacturing processes and improved food quality.
The years considered for the study are as follows:
Base year: 2017
Estimated year: 2018
Projected year: 2023
Forecast period: 2018–2023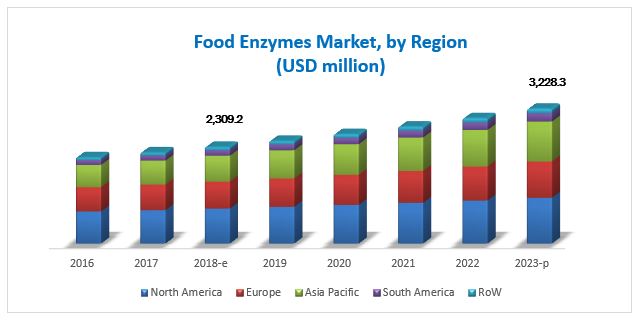 Download PDF Brochure: https://www.marketsandmarkets.com/pdfdownloadNew.asp?id=800
The carbohydrase segment, by type, is estimated to account for the largest market share in 2018.
The carbohydrase segment is estimated to dominate the global food enzymes market in 2018. Carbohydrase forms the major class of enzymes used in the food & beverage industry. It catalyzes the breakdown of carbohydrates into simple sugar and accelerates the process of digestion.
The bakery segment, by application, is estimated to hold the largest market share in 2018.
Bread comprises ingredients such as wheat flour, gluten lipids, starch, non-starch polysaccharides, and enzymes. The addition of enzymes to the dough improves the bread baking process. The main benefit of using food enzymes is that they prevent early staling of bread, decrease production time, and act as an alternative to chemical additives.
Speak to Analyst: https://www.marketsandmarkets.com/speaktoanalystNew.asp?id=800
The Asia Pacific market is projected to grow at the highest CAGR from 2018 to 2023.
The Asia Pacific region is projected to grow at the highest CAGR during the forecast period. More than two-thirds of the food enzymes market in the Asia Pacific region is dominated by multinational enzyme suppliers. The growth of the region is majorly driven by the rising awareness of food enzymes, market potential for existing products, and unexplored application segments.
This report includes a study of food enzymes, along with the product portfolios of leading companies. It includes the profiles of leading companies such as DowDuPont (US), Associated British Foods (UK), DSM (Netherlands), Novozymes (Denmark), and Chr. Hansen (Denmark).
Source URL : https://www.marketsandmarkets.com/Market-Reports/food-enzymes-market-800.html