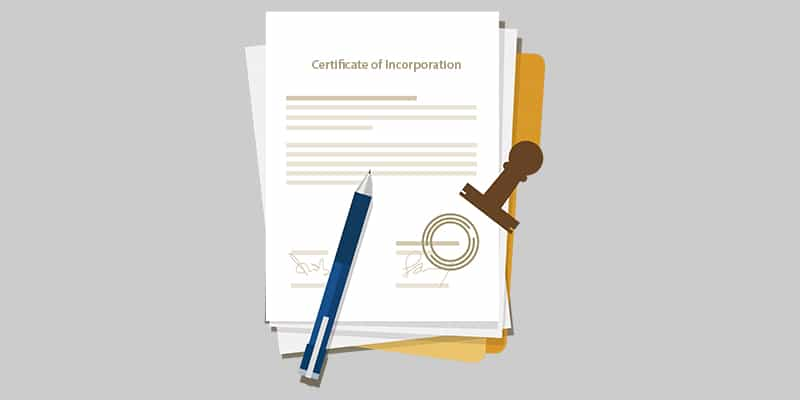 Certificate of incorporation is a proof of business registration in Singapore. It comes in multiple distinctive forms and is not available to all corporate structures in Singapore. It is an official document that duly expresses the legal status of a fully-registered company. It's issued by the registrar of companies- the Accounting and Corporate Regulatory Authority (ACRA)- as soon as you incorporate a new company.

To get a certificate of incorporation which confirms a company's incorporation that is also duly digitally signed by an ACRA officer, you would be required to log into ACRA's BizFile website and make the required purchase online. Once purchase has been completed, ACRA will send a notice to you with a URL for you to download the electronic certificate. Companies that have applied to change the name may follow the same procedure, and this includes companies that require a certificate confirming the company's incorporation and subsequent change of name.
Why is the Certificate of Incorporation important?
The Certificate of Incorporation is typically required when the company is entering into any trading agreements, business contracts, or involved in a transaction with overseas government or agencies of the government, the transacting parties may require the certificate as proof of existence and nature of the entity.
However, as most public registers are now electronic and made available online, the transacting parties performing due diligence are increasingly checking the status of the entities online in the registrar's public register of companies.
Who Issues the Certificate of Incorporation in Singapore?
In Singapore, ACRA is the Registrar of Companies, and it issues an e-notification of incorporation upon successfully completing the incorporation procedure. The e-notification will be emailed out to the officers of the company and the person in charge of the incorporation filings, and it does not bear any signature.
At times, companies may require signed copies of Certificate of Incorporation to be submitted to other parties in the course of their business. In such cases, an electronic Certificate of Incorporation can be purchased for a fee of S$50 via BizFile at any time and any number of times, after the incorporation, from ACRA, and such certificates are duly electronically signed by ACRA. It must be noted that only position holders ( business owners, company officers/authorised representatives, partners in the case of LLPs and LPs) and authorised Corporate Service Providers (CSP) of the entity can log into the BizFile to make such purchase.
Read more about Certification of Incorporation at this Rikvin.com blog.