Zilo Groove is back on the scene with a wonderful album called "The Afrobeat, Hip-Hop and Jazz Experience". The first single, Control the Action is awesome and gaining traction on the chart real quick. Live Your Life, the second single, has not yet been sent to radio, but my guess is that it will do very well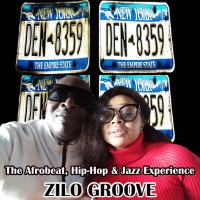 Born and raised in France, but exiled in New York City for the past decade, Zilo Groove has been delighting music fans at a blistering paste over multiple continents. While he can play bass, guitar, drums, keyboard, sing, write and produce music, it had been a while since we had heard from Zilo. As per our latest interview, he was working on a couple of documentaries that took him around the world, but the first wave of Covid 19 hit, he was forced to come back to New York City and stand by for a few months.
Always a hustler, after a few months of being bunkered at home in New York City, the groove man got bored and decided to go against the grain. He took a flight to Africa and traveled to Lagos, Nigeria, where he mingled with a plethora of African artists. True to his roots, he kept his jazzy feel and mixed it with hip-hop and Afrobeat. The result is a wonderful collection of bouncy tracks, with wonderfully uplifting lyrics.
Very few artists can fuse so many different genres of music and make them blend into a fresh new style that has mass appeal. Maestro Zilo is definitely one of them. This why his album is worth a listen.
Share it as much as you can and help make this wonderful music spread around the world.
Listen to Zilo Groove on Spotify
Listen to Zilo Groove on AppleMusic
Contact:
zilo@zilogroove.com
###