The report "Dairy Alternatives Market by Source (Soy, Almond, Coconut, Rice, Oats, Hemp), Application (Milk, Cheese, Yogurt, Ice Creams, Creamers), Distribution Channel (Supermarkets, Health Stores, Pharmacies), Formulation and Region – Global Forecast to 2023" The dairy alternatives market is projected to grow from USD 17.3 billion in 2018 to USD 29.6 billion by 2023, at a Compound Annual Growth Rate (CAGR) of 11.4% during the forecast period. The major factors driving the dairy alternatives market include consumers perceiving a vegan diet to be healthy. These consumers prefer consuming dairy alternatives such as soy milk, almond milk, rice milk, and other plant-based milk as a substitute for dairy milk. Further, increasing cases of lactose intolerance and milk allergies among individuals promote the consumption of dairy alternatives globally and is expected to drive the market.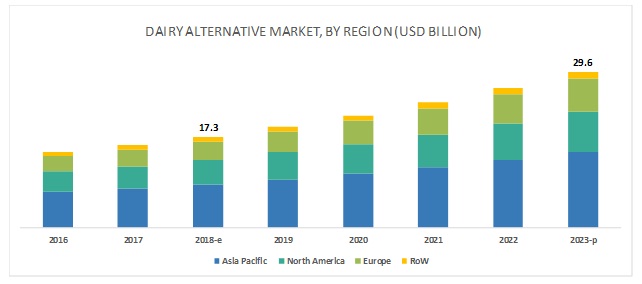 The milk segment is projected to account for the largest market share during the forecast period.
By application, the market was dominated by the milk segment in 2018. Health and convenience are prioritized by consumers while making a choice for beverages. Companies have diversified their beverage offerings with products containing almond milk, coconut milk, and soymilk, along with other non-dairy ingredients and alternatives derived from hemp, oats, or flax. Factors supporting the popularity of dairy-free milk are health concerns related to lactose intolerance and the hectic lifestyles of the working middle-class population. These factors encourage them to use convenience products for on-the-go consumption to save time.
By distributing channel, the online stores segment is projected to be the fastest-growing segment in the dairy alternatives market during the forecast period.
The fastest-growing market of online stores is attributed to a variety of options for a particular dairy-free food product at discounted rates as compared to traditional retail prices, to attract more customers. The usage of online services has also increased in developed as well as developing markets due to factors such as faster accessibility and cost-effectiveness. The increased frequency of online shopping has created opportunities for enhancing the product sales of leading online players and regional domestic e-retailers, such as Amazon, Vegan Online, and Goodness Direct.
Speak to Analyst: https://www.marketsandmarkets.com/speaktoanalystNew.asp?id=677
Asia Pacific is projected to account for the largest market share during the forecast period.
The Asia Pacific market accounted for the largest share in the dairy alternatives market. The large market share in this region is attributed to rapid urbanization, diet diversification, and liberalization of foreign direct investment in the food sector. Apart from this, rise in income, purchasing power, rapid growth of the middle-class population, increase in consumer awareness about health & fitness, and consumer demand for nutritional & healthy products provide promising prospects to the market players for growth and diversification in the region's food sector.
Key Market Players:
The major vendors in the global dairy alternatives market are The Whitewaves Food Company (US), The Hain Celestial Group (US), Blue Diamond Growers (US), Sunopta (Canada), Sanitarium Health and Wellbeing Company (Australia), Freedom Foods Group (Australia), Eden Foods (US), Nutriops S.L. (Spain), Earth's Own Food Company (Canada), Triballat Noyal (France), Valsoia S.P.A (Italy), Dohler GmBh (Germany),Organic Valley (US), and Panos Brands LLC (US). These players have broad industry coverage and strong operational and financial strength; they have grown organically and inorganically in the recent past. The WhiteWave Foods Company, an industry player, completed its merger with Danone S.A. (France). This merger would help Danone S.A. to focus on expanding the sales of its plant-based products in April 2017.
Recent Developments:
In April 2017, The WhiteWave Foods Company completed its merger with Danone S.A. (France). This merger would help Danone S.A. to focus on expanding sales of its plant-based products.
In January 2017, Hain Tilda India Private Limited, a subsidiary of Hain Celestial, formed a joint venture with Future Consumer Limited (India). This joint venture would enhance the company's product portfolio of plant-based beverages, toddler & kid food products, and snacks products to be offered under brands including Dream, Earth's Best, Garden of Eatin, Sensible Portions, and Terra.
In September 2016, Blue Diamond Growers expanded its bulk storage capacity by establishing a new warehouse in Salida, US.
In October 2016, SunOpta announced a partnership with Oaktree (US), an alternative investment management company. This strategic partnership benefitted SunOpta with an equity investment of USD 85 million.
In October 2016, Sanitarium opened an office in Shanghai to expand its products and services globally.